ADC Street Map Books are Now Digitally Available on CD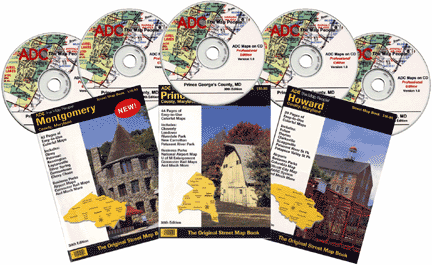 Click Here to go to our new grid conversion web site. Here you can easily convert ADC Grid Values from old to new.
For Printed ADC Book Maps, visit the ADC The Map People corporate Web site.
ADC's popular street maps are now available on CD, with powerful new timesaving features!
Specially designed GIS (Geographic Information System) features offer super-fast access to map locations, so anyone who uses street maps-especially engineers, dispatchers, urban planners, realtors, statisticians, surveyors, assessors, sales professionals, and service organization staff-will appreciate the simple point-and-click tools that save time.

"ADC Maps on CD" and "ADC Software on CD" are GIS-ready. Whether you use ESRI's Arc View software, ADC Map Viewer software, or ADC Grid Look-up software, these CDs are packed with the tools you need to create vicinity maps, perform high-grade analyses, or simply find the corresponding ADC grid for lists of addresses.

Up-to-date and easy to read, ADC's large scale gives a level of accuracy and detail no other atlas can offer. In fact, ADC has a map that works the way each of our customers work…and travels the way they travel.

On foot, on the road, on the job...for occasional use or constant access... everyone uses maps. That's why ADC makes a variety of maps for tourists, natives, business people, and professional drivers in formats specifically designed for convenience, durability, and readability. ADC maps cover various levels of detail from county outlines to primary and secondary roads down to individual streets.

No matter how and where you use your map, ADC sells one to fit your needs.

Register Your ADC Maps on CD Purchase and Receive a Free Map!
A $12.95 Value!

Who uses ADC Maps? State agencies, county governments, municipalities, professional service contractors, educational institutions, and libraries, to name just a few. ADC Maps on CD's powerful new features increase productivity and accuracy, deliver fast, robust solutions, and decrease travel time.
We'd love to hear your comments and/or suggestions. Please use our feedback page to share your thoughts with us. Or, e-mail us at info@adcmapsoncd.com.
To download a copy of the ADC Maps on CD License Form click here.